Our team is always advocating for you, our members.  We have a few marketing tips and a chance to earn a free apple watch just in time for Christmas.
Effective Marketing is Powerful – and essential to a business's success. But how can your practice navigate marketing to retain customers while simultaneously attracting new patients? The truth is, your practice needs an approach for both: create engaged clients and appeal to potential clients enough to drive them to book their first appointment.
Sound like a lot to tackle? Not to worry. We've got three strategies to get you started that conveniently drive results for both sides of the coin. Nailing these down correctly can serve as the foundation of your practice's marketing campaigns. High fives all around.
Strategy #1: Maintain a Current Website with Quality Content
The more you create blog content, update hours and times of operation, and post good reviews from current customers, the higher your search engine ranking. In other words, content offers your patients the opportunity to be engaged in the process (think: patient success stories, referral incentives, reviews) and at the same time provides an easily found website that is home to a highlight reel of the culture of your practice that will attract potential customers.

Strategy #2: Perfect the Patient Experience, and Get Your Entire Team on the Same Page
With Yelp and Google reviews, you're one bad review away from losing several potential customers. When your practice has the customer experience as the number one goal, you'll likely benefit from positive reviews and word-of-mouth that convert to new customers. According to forbes.com, a  staggering 90% of consumers read online reviews before visiting a business. What's more, 84% of people trust online reviews as much as a personal recommendation. So let's repeat this important strategy one more time: perfect the patient experience.
Strategy #3: Keep a Communications Calendar
Avoid losing interest from prospects on the brink of becoming clients, and keep current customers informed and feeling valued with this strategy. A communications calendar ensures events, phone calls, special offers, birthday wishes, etc., are consistently communicated. Doing this acknowledges the recipient, keeps them informed, and reinforces that doing business with you is something they'll do again and again.
See how Weave's software can streamline these strategies for your team and help your business thrive. Visit www.getweave.com​ or visit us on Facebook, Instagram, Twitter or LinkedIn.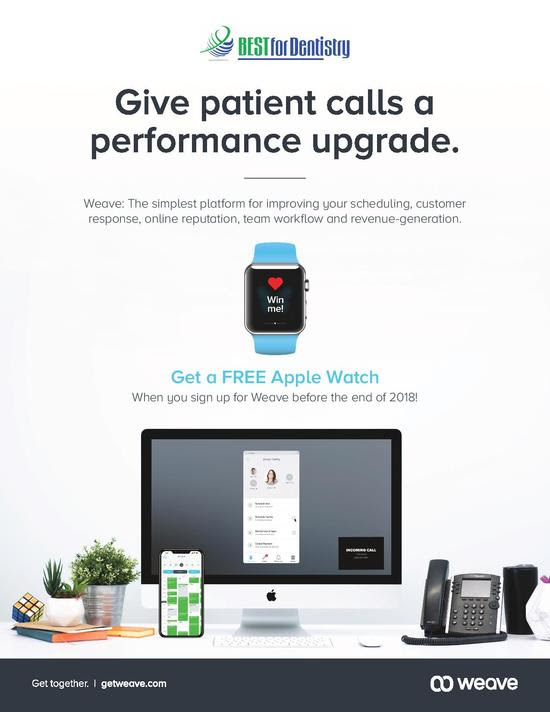 Working on your behalf,
Dr. Abernathy

Give Patient Calls performance upgrade- and receive a free Apple Watch